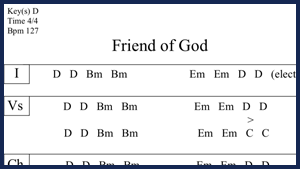 Friend of God is written in the key of E. However, this song is commonly used in the key of C and the key of D as well.

Musically, this song is faster song at 127 beats per minute and is written in 4/4 time. There are also a few chords outside of the normal E chord family in the verse.

The D chord is the "flat 7" chord relative to the E major scale. This chord creates a unique rock type sound.

There is also an unusual rhythm change on the D chord in the verse, known as a pushed eighth. That chord happens one eight note before the normal down beat of the measure. You can learn more about how to create a pushed eighth strum pattern in the intermediate worship guitar course.

For the strum pattern, you can use the normal 4/4 strum pattern that works with most songs, as long as you can keep up with the pace.

Otherwise, you can simply play down strums, where you accent the 1, 2, 3,4 and then play lighter with one strum between each number. So, you will be strumming "one and two and three and four and" for each measure.

As you play in the key of E, you can, of course, use E chord family chords. You can also capo on the 2nd fret and use D chord family chords instead. Finally, you have the option of using a capo on the 4th fret and using C chord family chords.

Just like any song, you can use two guitars, and have one play open chords, while the other guitar plays a different chord family, using a capo.

To transpose this song lower in the key of D, simply move each chord down one whole step. Your E chord would move to a D chord, and so on. To transpose into they key of C, move each chord down two whole steps. Check out the charts above to see each key or to view Nashville Numbers.