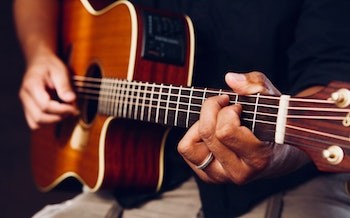 Once the guitar bug has bitten you and you know you're going to stick with it, it's inevitable that you're going to want to upgrade your beginner guitar. Depending on your situation, you may want to upgrade to a great guitar.


A few big names start popping up on the radar. Many "old-school" guitarists will naturally crown Martin as the cream of the crop. Of course, Martin has some younger followers too. Not long ago in the airport, I talked guitars with the other guy in line who was carrying one, and he was longing for a Martin.
Martins are great guitars and can be very pricey as well. They can play pretty fast and lean more towards a bluegrass style. Doc Watson for instance played a D-18 on his early recordings.

Gibson, although known for its Les Paul, makes a high-end acoustic guitar. The Hummingbird has claimed a few prizes as a dreadnought and has a unique style unto itself. They play great unplugged, but require quite a bit of know-how to get them to sound good over a sound system.

Now onto the brand that worship leaders love to love: Taylor. Taylor is kind of like a worship leader's Harley. You say the name, and you immediately get an "ooooo" response. They look amazing, sound amazing, play amazingly well, but not all are created equal.
I'm a little biased towards Taylor since I own one; however, I wouldn't say it's the best guitar in the world. When you get into the thousand-dollar range on a guitar, it has much more to do with fit as to which is better. For instance, for most worship leaders, I'd say Taylor is the best acoustic.
For finger picking, the Olson (James Taylor, David Wilcox) is the best. For an Olson, expect to know somebody who knows somebody. These things run over $10,000 and are hard to get new. I've heard one though in a studio, and I think it's the best tone I've ever heard from an acoustic.

In a post soon to follow, I'm going to help you with what to look for in a great guitar and actually reveal which one I own. However, with this post, just walk away with knowing, it's not so much which is best, but which is best for you.
This of course also goes with electrics. You will also find that expensive guitars also start appealing to aesthetics and exclusivity. You'll start to find out that certain inlays can bump up the price of a guitar as well as claiming a guitar is modeled to a certain artist's specifications.

-Stephen