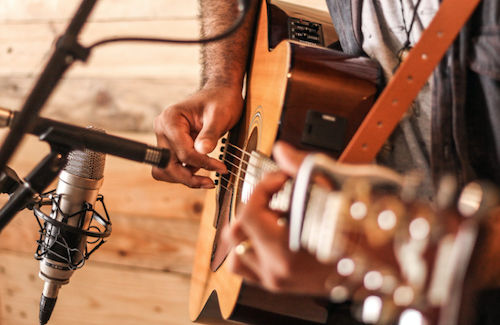 Christmas gifts for the guitar player are covered! I've listed all kinds of accessories as well as actual guitars from lowest to highest price. I own most of these products or have at least used them a good bit.
These are all Amazon links, and if you use them, I may receive a small commission that helps keep Guitarmann going, but the price to you is exactly the same. Happy shopping!

Gifts Around $15 or Under

1. Guitar Pick Holder - With Adhesive $8
I have several of these lying around, and they are super handy!


2. Guitar Foot Rest $11
You don't know you need one until you have one! This really helps when playing and sitting.


3. Snark Chromatic Tuner $12
I use one of these to tune before practicing. A chromatic tuner will automatically detect which note you're playing and will help you tune quickly.


4. Guitar Picks that I Use $13
This price is for 72 picks, and if you're like me you loose them everywhere! These Dunlop picks are the best size, in my opinion, for both acoustic and electric, and I always have one in my pocket!


5. My Go-To Acoustic Guitar Strings $13
I've tried them all! (Well, maybe not all, but a lot). These are fantastic, especially for the price.


6. My Go-To Electric Guitar Strings $14
These are great electric guitar strings!


7. Simple Guitar Stand / Holder $15
If you need a budget guitar stand, this is a good one.


---
Gifts in the $20-$50 Range
1. Kyser Capo $20
Kyser makes the most straight-forward and dependable capo, especially for acoustic guitars.


2. Fast Fret String Cleaner $20
I have several of these on hand to clean my strings after playing. You'll extend the life of your strings, and they'll feel so much better each time you play.


3. Padded Guitar Strap $40
This is a pretty luxurious guitar strap made of neoprene. It is very comfortable and has a nice "give" to it. It will slip off of a rain jacket or other smooth surface, but it's good quality overall.


4. Herculese Guitar Stand $53
This stand is a little pricey, but I have several of them. It actually saved one of my friend's guitars from crashing!


---
Gifts in the $50-$100 Range

1. Herculese Guitar Stand Rack $75
This rack hold 5 guitars. I have one in my office, and it does the job well!


2. Polytune Mini Pedal $80
This is a great stompbox style tuner in a very small package.


3. Polytune Pedal $100
This is the same tuner but normal size.


4. Boss TU-3 Tuner Pedal $100
I have a few tuner pedals, but I've owned the TU-2 for over a decade, and it still works great! This is a standard size pedal.


5. Jasmine Guitar $100
If you need a budget guitar, or if you're just starting out, this is a good one!


---
Gifts in the $100-$200 Range

1. BBE Mini Sonic Stomp Pedal $120
This pedal will make your whole electric guitar rig sound better and more present.


2. Pedal Train Classic JR Pedalboard $120
This is the very guitar pedalboard that I use, and it comes with a soft case.


3. Pedal Train Classic 2 Pedalboard $150
If you need more room on your board for more pedals, this is the way to go.


4. Boss RV-6 Reverb Pedal $150
While I own the RV-5, I believe this one is very similar and can be used on an acoustic electric or electric guitar setup.


5. Audio Interface Bundle $150
This is a fantastic bundle (made by Focusrite) if you're just getting started with recording audio into your computer. It's a no-frills easy way to start.


6. LR Baggs Acoustic D.I $200
Any time I travel, I use this as my go-to direct box. It is small and has some nice controls built right in. I actually have two of these!


7. Fender FA-115 Guitar $200
If $200 is the top of your budget, I'd recommend this guitar. It's a good guitar, and this package comes with a lot of other things to get you started.


---
Gifts Over $200

1. Fender CD-60s Guitar $270
If you can stretch a little more, go for this solid-top guitar. A solid top (instead of laminate) will last much longer and is better quality. This is the one I'd recommend in this price range.


2. Rode NT1 Microphone Kit $300
This isn't directly guitar-related, but if you're looking for a great microphone to use in recordings, this is a good one that I've used for years.


3. Strymon Timeline Delay Pedal $449
This is an incredible delay pedal that is on a lot of pedalboards. Yes, it is really pricey and big, but it can do things no other delay pedal can do. You'll spend hours with it if you get it.


4. Strymon BigSky Reverb Pedal $480
This is another big and expensive pedal, but if you geek out on reverb, this will keep you busy!


5. Seagull S6 Guitar $500
Seagulls are some of my favorite mid-range guitars to play. If you're looking in this price range for something fun to play around the house that sounds great, I'd go for this one. At the time I'm writing this, there is only 1 in stock, so it may go quickly!


6. Taylor 210ce Dreadnought Guitar $900
Taylors are my personal favorite guitars. This is actually on the "lower-end" of their full lineup, but rest-assured, it's a fantastic guitar and one I would for sure consider in this price range.
I hope this helps knock out some of your shopping! Let me know if you have questions on any of it, and Merry Christmas!
Stephen