Guitarmann has helped hundreds upon hundreds of beginners, advanced players, electric players, worship leaders and band members learn how to play guitar and have fun doing it! Members have any-time access to over 100 core video lessons and years worth of video lesson updates covering song examples, blues, jazz, bluegrass, song writing, finger picking, new strum patterns, new techniques, and more. Combine these lessons with the free chord charts, and you will always have inspiration and the knowledge it takes to jam with others, play in a band, or even lead worship. Absolutely no experience is required!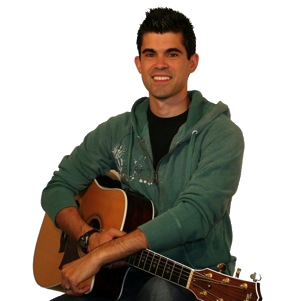 As your personal instructor, Stephen Mann will share his knowledge from over 11 years as a guitar instructor and 14 years as a worship leader. He has performed with artists such as Jason Roy of Building 429, Everlife in an opener for Sonic Flood, Adam Cunningham (a Dove award winner), Matthew Smith of Indelible Grace and many more. He currently leads worship weekly for a church of around 2,000 in attendance and has a broad history helping musicians who play for fun, play in a band, or even lead worship in a mega churches. His unique style will guide you through a comprehensive method of learning guitar without wasting time on how to read music.







"My goal in teaching is to provide the straightest line
from knowing nothing to playing everything."


Watch Stephen demonstrate different styles of play


Guitarmann.com is for all levels of play. Absolute Beginners, intermediate rhythm players, electric players, and even advanced players will benefit from Stephen's unique method that you will not find anywhere else. If you're just starting off, the guitar tutorials will walk you through guitar for beginners, and even show you lots of easy guitar songs you can play right away. Best of all, you'll never waste time trying to learn how to read music. In his method, Stephen incorporates a revolutionary system of music called studio charting. These chord charts are what musicians in Nashville use every single day. In fact, they are based off of the Nasvhille Number System. It's simple, effective and is the most efficient way to learn guitar. To get a feel for how everything works, you can check out free guitar tutorials, free worship music charts, and more free stuff. You will find that Giuitarmann offers the best online guitar lessons on the web!

One of the biggest benefits of online learning is Community. Everybody has questions when they learn something new. That's why Guitarmann has forums where you can post questions day and night. We are here to help you get started, get better, so ask away!




"After trying various online courses and even the so-called 'Number One
Rated DVD Course,' I stumbled upon Stephen Mann's website. I have to say that Stephen Mann's
"Guitarmann" course is hands down the best. His teaching is simple and practical.
" --Steve G.