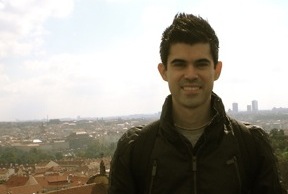 I recently partnered with a church in NC and joined them for a trip to Prague. We had a few objectives while we were there. The main objective for the music team was to perform in schools and hostels in order to open some doors for a church plant in Prague.

Bridge Community is trying to make an impact on the people of Prague by helping the community through service projects as well as hosting gatherings for worship as well as community.
Impacting any culture requires breaking through to it, so the music team performed songs in all sorts of different settings. We played for elementary kids who didn't speak a single word of English (they enjoyed the concert the most by the way!) and we played for travelers and regulars at a very trendy hostel.
We were guests at a few English classes to help kids practice their English, and we even got together for a trash pick-up in a neighborhood. All of these things were aimed at both specifically opening doors for future ministry as well as generally establishing Bridge Community as a church that actually loves the community.

The other goal of the trip was to pave the way for a summer Prague trip involving 75 high school students in a church choir. There was a logistics team on our trip that had to scour the city in search of the best ways to rent sound systems, sleep 100 people, feed everyone, etc. This youth trip will continue the work that has already been started in Prague.

My specific role was actually to play bass for the concerts and worship times. I had a blast learning all of the bass licks for the songs and playing with great people. I did have a few songs that I led and performed on guitar though.
I also met some people who were interested in learning via guitarmann.com! Guitarmann is already international, but I'd love to add the Czech Republic to the list!

Check out some pictures via FaceBook, and become a guitarmann fan while you're at it!


Stephen