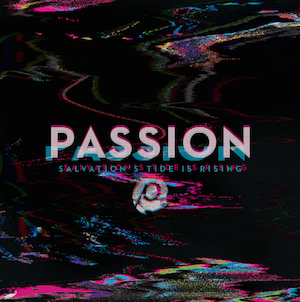 Check out all of the free exact studio charts from the Passion 2016 album "Salvation's Tide is Rising" in both Nashville Numbers and regular chord charts. The album features artists such as Davis Crowder, Kristian Stanfill, Chris Tomlin, Matt Redman, Christy Nockels, Brett Yonker, Melodie Malone, and Jimi Cravity. You can buy the album here on iTunes. (These charts are a personal interpretation of the songs intended for education only).
01 "Salvation's Tide"
Kristian Stanfill
This is a medium-paced song with a driving / power feel that has a straight forward chord progression.
02 "My Victory"

David Crowder
This song has a minor chord focus in the verse and has a powerful chorus with a few quick chord changes.
03 "Remember"
Brett Yonker | Melodie Malone
This song was a highlighted at the conference, with a simple melody and lots of one beat "passing" chords.
04 "God and God Alone"
Chris Tomlin
This is a classic sounding Tomlin song with an acoustic beginning and a very singable melody, perfect for congregations.
05 "Simple Pursuit"
Melodie Malone
This is beautiful song in 6/8 that has a "Bethel" feel, and elements that you'd hear in a movie-soundtrack.
06 "I Turn to Christ"
Matt Redman
This is song of dedication and moving forward that has a classic Redman feel. It's very easy to join along.
"Your Grace Amazes Me"
Christy Nockels
This is a slower song that starts with piano and a simple vocal and turns into a powerful ballad.
08 "All We Sinners"
David Crowder
This song has folksy twist with dramatic "up and down" dynamics and still maintains a simple chorus.
09 "Surrender"
Jimi Cravity
This loop-heavy song with little more of a CCM pop feel and could be used in a variety of settings.
10 "Good Good Father"
Kristian Stanfill
This is remake of the popular song with a pervasive signature lick throughout and several loop elements.
---
Choose Your Free Lesson >>
Beginner

Learn how to avoid the 3 most common mistakes beginners make, so you can build a solid foundation.



Intermediate
Unlock the 3 secrets of quickly getting out of a rut and having more fun playing guitar.



Advanced
Discover the one trick pros use to understand guitar theory without wasting time reading music.


---


"When I took guitar lessons from Guitarmann, I couldn't believe how quickly I was able to start actually playing songs. I had taken lessons in the past, but things never really "stuck", no matter how hard I practiced. I think the Guitarmann Method is best way for anyone who wants to learn guitar. You'll be playing real songs the right way in no time. I use what I learned nearly EVERY DAY as a worship leader, guitarist, and song writer for Vertical Worship"


Worship Leader & Song Writer for Vertical Worship


"Stephen is one of my good friends; someone who has been teaching me lessons on guitar for many years!"


Building 429: Grammy-nominated; Dove Award Winner


"I can say without a doubt that Stephen Mann will take you far beyond your expectations when it comes to learning the guitar. His teachings have brought me to the point where I now lead worship for several different youth events, and at my own church as well. I would not recommend anybody other than Stephen!"


Guitarmann Member


"I took a guitar to my first lesson knowing nothing about chords or technique. Literally within a few months, I not only knew a good number of popular chords, but also I knew techniques for figuring out nearly every chord I might come upon. Stephen's method of teaching guitar is amazingly easy to grasp quickly, yet at the same time challenging enough to help you achieve your personal goals."


Guitarmann Member


"some very helpful stuff for guitarists from Guitarmann!"


author: Worship Matters; Dir. Sovereign Grace Music


"I started lessons with Guitarmann and two years later began to use the guitar in leading our worship services. He has a keen awareness of contemporary worship and how guitar fits in."


Guitarmann Member


"I just wanted to thank you for your site. You are an awesome teacher, and I wish I had found your site years ago. I feel like your simple lessons have taken my playing and my "musical knowledge" to the next level. Now, I feel like I understand how chords are formed and how they work together."

Guitarmann Member


"This is by far the best online guitar learning method; I wasn't just mimicking but was understanding what's going on with guitar, and it has help me be able to play on my own within 2 weeks."


Guitarmann Member


"I have had 4 teachers over my many years of trying to learn and no one ever approached teaching the way you do. I feel comfortable and am able to understand what you are talking about in a way that it will stay with me and not just go in one ear and out the other. Already I have picked up tips and tricks that I never knew even though I had played guitar with teachers before.I appreciate the ease at how you are teaching me and I feel as though you are right here in my home with me encouraging and helping me to get it right this time. I also want to make mention that the simple way you are teaching me to strum. No one ever taught me that!"


Guitarmann Member


"Stephen, thanks for offering incredible lessons at an affordable price. I am just really happy right now and I had to write something. I have improved my playing and learned more in two months than I had in the past years of local lessons and playing on my own. You are a great teacher and exactly what I needed. I will continue with the lessons and hope to lead the praise songs for my Bible study group soon. Thanks again, this is the best investment I ever made toward learning to play guitar."


Guitarmann Member


"Great guitar players aren't born - it takes hard work; I'm thankful that he's put together resources for the rest of us to learn."


Singer Songwriter: Indelible Grace


"Stephen is great teacher for those who are beginners all the way to advanced guitar players. He played a big role in my guitar playing as I started in Middle School and his method helped me as I progressed in my playing and worship leading even through college."


Guitarmann Member


"I have been able to read music and play an instrument for 38 yrs. I self taught and have played guitar off and on for 35 years, most avidly over the last 8 years as a worship leader. This is the first time I've truly understood how the Chord Families actually are put together and work. Thank you for opening my eyes!"


Guitarmann Member


"First I want to say I am loving the online classes and learning so much. I have taken a few other online classes and by far your's is the BEST. I am starting the Electric Series this week. Just finished the Essentials Series!"


Guitarmann Member


"I took guitar lessons from Guitarmann for about 4 years, and since then i have been in two bands and also my church band. He is an amazing teacher! I love just being able to sit down anytime and play guitar for minutes or even hours."


Guitarmann Member


"I was intimidated about learning guitar because I thought only people with an obvious talent for music could pick it up. Stephen's method gave me confidence to stay with it and helped me get over my fear of getting started. It's very intuitive and got me playing quickly. I'm not trying to be a rock star. I just want to play songs for my children and help them develop a love for music early in life. My lessons with Stephen have been invaluable in helping me reach this goal."


Guitarmann Member